Following the Money:
Mike Rinder's Changing Story
Rinder's twists and turns from Scientologist to "real Scientologist" to anti‑Scientologist are marked by dollar signs.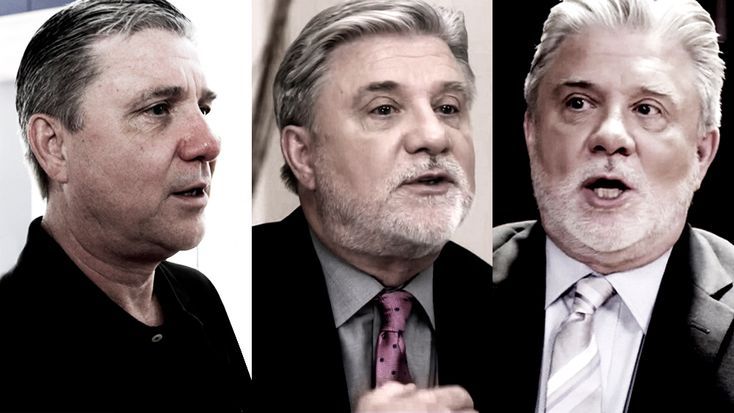 Traveling the course of Mike Rinder's life after Scientology, one must follow a highway of twists and abrupt, snakelike U-turns of duplicity and dishonesty, always marked by dollar signs.
The journey begins in a sultry parking lot in Williamsburg, Virginia, in the summer of 2007. Rinder had deserted his family and his position at the Church of Scientology and was eking out a living selling cars.
Because he had dealt with various media affairs while in the Church, Rinder had an established relationship with journalists, including several he had dressed down for their biased reporting on Scientology. After learning Rinder had left the Church, one of the reporters turned up on that Williamsburg lot, pursuing Rinder for an interview. He turned them down flat, informing a former Church colleague he had no interest in speaking to the media. There was nothing in it for him—yet.
The trip soon shifts to Denver, Colorado, where Rinder parks at the home of a girlfriend while he resumes his efforts to hawk automobiles.
In the latter half of 2008, Rinder reunites with his former Church colleague Mark "Marty" Rathbun, who had been ousted from the Church in 2004. Rathbun was soon to remake himself as the guru of so-called "real Scientologists," a cadre of former Church members who wanted to set up a competitor church to practice their own deviant of the religion for personal profit, while attacking the real Church and its leadership.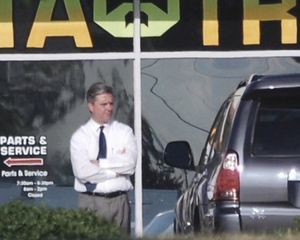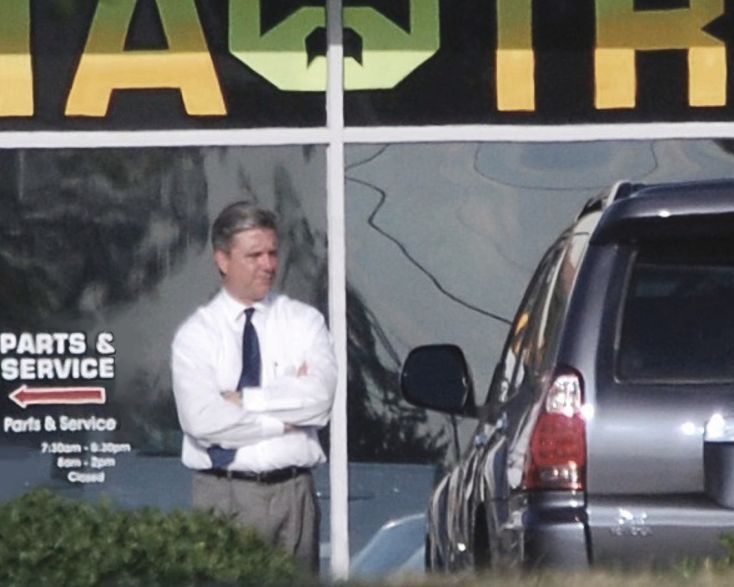 Rathbun recruits Rinder to be a part of his venture by becoming the struggling man's mentor and guardian, finding him "sugar daddies" in the anti-Church underworld. Thus, by 2009, Rathbun had set up Rinder with one Matt Argall, another "real Scientologist," to start throwing Rinder a financial lifeline—the first of many road signs carrying a dollar sign.
Argall was located near Clearwater, Florida, home of the Church's spiritual headquarters, where he had started up a telemarketing company. Rinder fashioned his own one-man consulting LLC and moved to the area in October to be employed as Argall's consultant.
By then, Argall was already bragging he was paying both Rathbun and Rinder and that they had joined forces to "destroy" the Church. Rinder was now being paid to attack Scientology, not to work.
Financial records later revealed that in the weeks Rinder was on Argall's company books, he netted at least $20,000—likely many times over what he made selling cars.
The math was not lost on Rinder. It was during this time he devised an extortionate scheme to score a much larger payday in the anti-Church lane. Under the brazen heading of "my devious plan," he mailed his scheme to Rathbun, who later revealed the incriminating document on his own blog.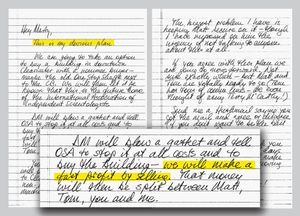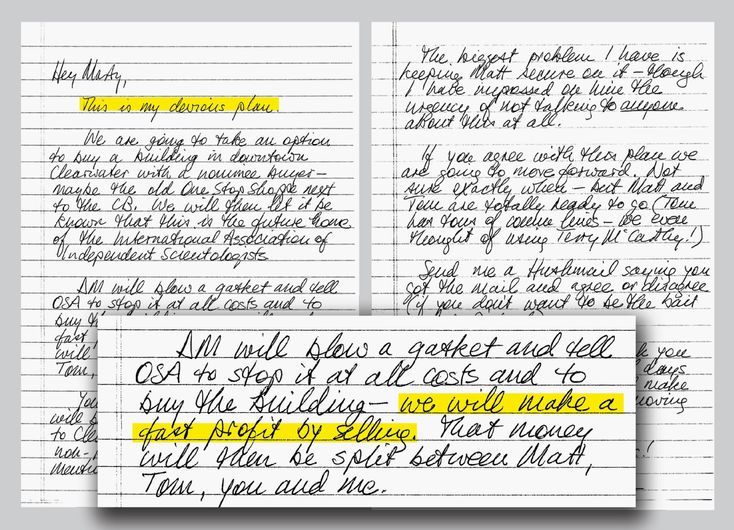 According to the plan, Rinder and two coconspirators would covertly acquire a building next to the Church's spiritual headquarters in Clearwater, Florida. They would then announce the property as the future home of the "International Association" of "real" Scientologists, revealing its true purpose to serve as a vehicle for Church antagonists to harass the Church and its leadership. Rinder thus intended to force the Church to purchase the building at a steep price if it wanted to be at peace.
"We will make a fast profit by selling," Rinder stated, promising to split the money with his coconspirators and Rathbun. "Told you it was devious!"
But Rinder's devious plan fell apart at the turn of 2010 when things went rotten with Argall. There were reports of infighting. Rinder reportedly claimed Argall's telemarketing company was a scam and so inherently fraudulent it couldn't be legitimized and Argall, in turn, fired Rinder as an "asshole" and "a lazy son of a bitch." Argall exited the venture soon thereafter.
Rinder, with his girlfriend and another couple, had taken out a lease on a large house in Safety Harbor, Florida, on the prospect of future income from Argall. They now had to break their lease and Rinder was floundering.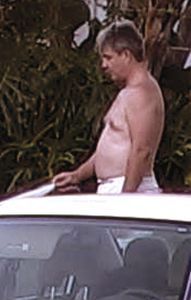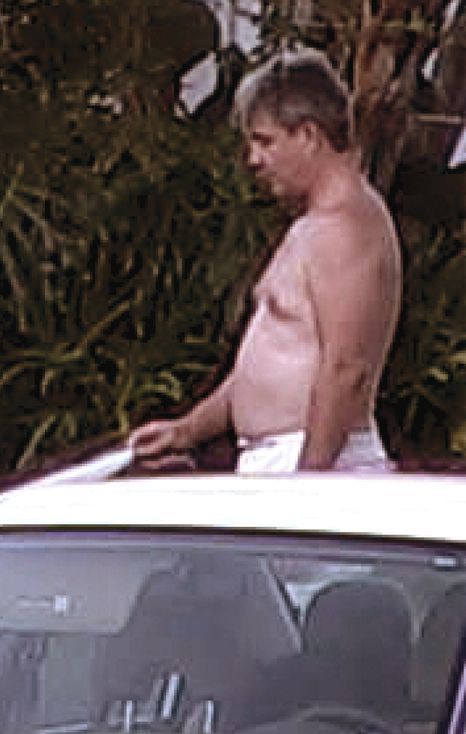 Rathbun again came to the rescue and helped arrange Rinder's next sugar daddy, "real Scientologist" Robert Almblad—a serial con man with a history of drug trafficking and fleecing investors of millions in failed ventures and "inventions."
Almblad arranged rent-free housing for Rinder in Tarpon Springs, Florida, and gave Rinder a job as public relations director for his company, Origin Tech, LLC, a venture to market a "safe ice" machine.
It was only the tip of the iceberg. Almblad had much bigger plans. He found a partner in Rinder for a grandiose litigation scheme with a delusional goal to "bankrupt" the Church of Scientology and net a massive windfall for their "real Scientologist movement" in the process.
Almblad's pipe dream was to drum up a barrage of lawsuits by individuals who would demand a refund of their charitable donations to the Church and so get a court order that would make the Church buckle and write a big check. Rinder stroked the con man, writing him that such prospective lawsuits meant "a LOT of cash" and promised "I am going to try and put this whole thing into some sort of cogent outline."
July 4 weekend, 2010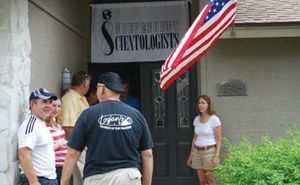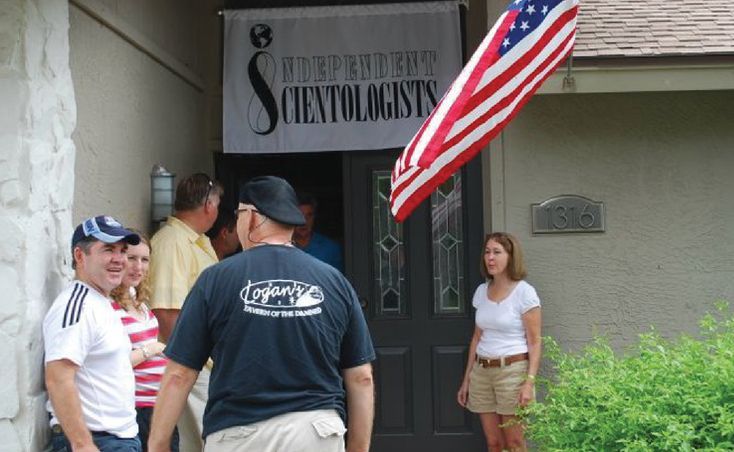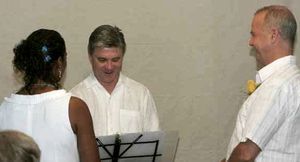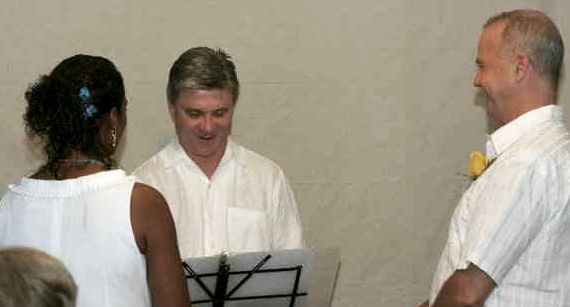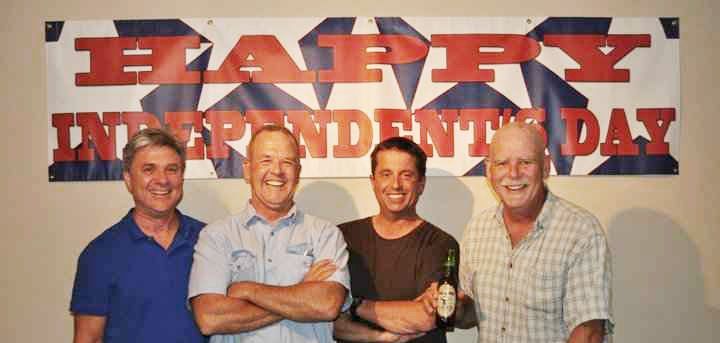 On the July 4 weekend, 2010, Rinder hosts a party of "real Scientologists" in Tarpon Springs, Florida, while employed and housed by "real" Scientologist Robert Almblad.
The same weekend, Rinder takes to the pulpit as the first "minister" of the "Independent Church of Scientology," officiating at Mark Rathbun's wedding.
The weekend was an occasion to stoke up potential litigants in Almblad and Rinder's $1 billion litigation scheme.
Almblad, carried away by the prospect, responded to Rinder: "That $1 billion [Church] reserve will suddenly be in serious jeopardy!…[I]n the end, we will get all the assets…all the cash in the reserves and all the buildings in our hands….We can financially crush the Church to death."
Through the rest of 2010 the road signs were flashing money. Rinder assumed a role as "a voice of this new movement," even appointing himself the first minister of the "Independent Church of Scientology." Under that bogus title Rinder actually officiated at Rathbun's wedding on July 3, and Rinder and his girlfriend hosted the first of what became an annual party of "real Scientologists," used to recruit potential litigants.
Rinder continued to court "real Scientologists" in pursuit of the $1 billion litigation plan and espouse their school of thought with its professed devotion to the Scientology religion as such and its founder.
Scientology, Rinder wrote in July 2011, is "the best road to spiritual enlightenment."
"L. Ron Hubbard," he wrote in September, "is the greatest, most accomplished, interesting, intelligent, humorous, widely read, generous, polite, larger than life man…BY A COUNTRY MILE….If you read everything he wrote and listen to every lecture he delivered in that time it is an absolutely astonishing body of work. So, don't think that I don't have the utmost respect for the man."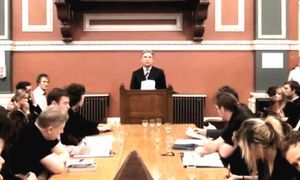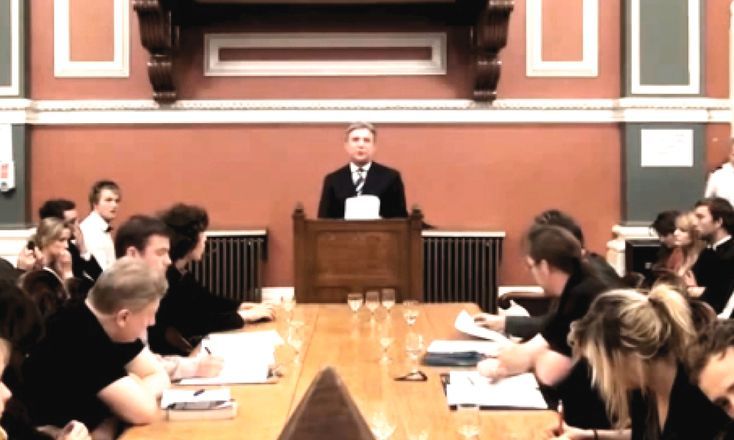 In October that year, Rinder took part in a debate at Trinity College University Philosophical Society in Dublin, Ireland. His position was that Scientology meets all the criteria of a bona fide religion, and that it is his religion as a "real Scientologist."
Rinder argued "the principles of Scientology are indisputably religious" and went on to submit: "[P]erhaps there is a simpler and more humane test: If I tell you that the practice of Scientology provides me spiritual comfort, guideposts to leading a moral life, how to solve the difficulties of day-to-day existence, gives me an understanding of God and puts me at peace with what happens when I die, can anyone else judge that not to be true? And if others share in these beliefs and form some community of like-minded believers, can anyone with good conscience say, 'That is not your religion'?"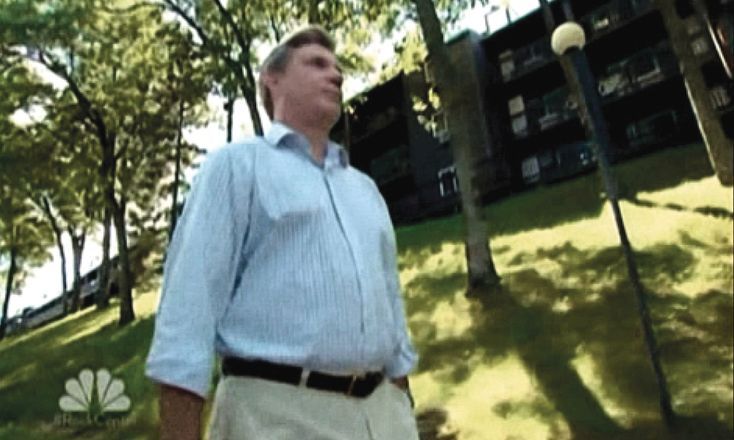 Rinder professed he had religion, but he still had the same old problem of money. By the end of 2011, Almblad was running out of cash. In February 2012, Rinder had to move out of his rent-free house and was back to renting, this time in Palm Harbor. Soon, Rinder and his girlfriend were on welfare and also rumored to be relying on food stamps, and Rinder was once again struggling to earn a paycheck.
As of August 2012, Rinder reinvented himself again and was now hiring himself out as a "consultant" for attorneys willing to represent "real" Scientologists seeking refunds of their charitable Church donations—and finding ambulance-chasing attorneys willing to pay his fee of $175 an hour. But the road Rinder was traveling was about to make another sharp turn.
By 2013, the "real Scientologists movement" had gained no traction and was unprofitable. Rinder stepped off his "real Scientologist" pulpit and the 4th of July get-togethers came to an end. The "voice of the movement" went silent and even Mark Rathbun, the leader and guru of the fringe effort, later declared that the "real Scientologists movement" was a "failed experiment."
Rinder began to disassociate from Rathbun. But with no new sugar daddy in sight, Rinder could not altogether alienate himself from the "real Scientologists," as they were still his best potential source of income—whether from litigation prospects or handouts. Through online posts, he continued to ingratiate himself with the cadre by affirming Scientology as a religion, lauding L. Ron Hubbard and praising Scientologists as "decent people."
Rinder would also soon reveal another motive for his ostensible devotion: He was being paid in a legal case to file sworn declarations against the Church. Rinder knew that were he to be deemed an "apostate"—otherwise known as a biased defector—his credibility would be rejected. In fact, he had repeatedly argued as much when involved in legal affairs in the Church, declaring that the testimony of an apostate is "not credible." Thus, his record as a paid consultant in deposition revealed Rinder declaring: "By the strict definition, I'm not an apostate."
Yet, the highway he was traveling had a few bumps. For all of Rinder's legal consultancy efforts, billing up to $5,000 a month, the specious litigation plans went up in smoke. By the time the smoke cleared, there was just one ill-fated case. Rinder's fees dried up in the spring of 2014.
Rinder then tided himself over by working for a friend, first in a shady investment research venture and then working alongside ex-cons on renovations in a house-flipping scheme that engendered multiple complaints by irate victims of the scam.
It was at this time in the journey Rinder was to make another U-turn and, of course, the road signs were flashing money. Big money. Mark Rathbun later posted a YouTube video in which he explained the behind-the-scenes maneuvering that brought about the new change in direction—it involved Leah Remini, who was not a "real Scientologist" but an anti-Scientologist on a vendetta.
"Leah Remini told me she had, after two years of careful work through her publicist and Rinder...successfully come up with unlimited financial backing to go after Scientology and she was going to create a production to do so," Rathbun said. "And she told me that she was so well backed that I could write my own ticket to participate as a producer."
Rathbun said he asked Remini what the production was going to be about and she told him, "essentially, it was going to be a regurgitation of everything that's been publicized about Scientology…over the last 40 years." Rathbun further says he told Remini she was proposing essentially "a cheap tabloidesque pile-on" and that he was not interested. "When I rejected her offer, she went straight to Mike Rinder and he took her up happily."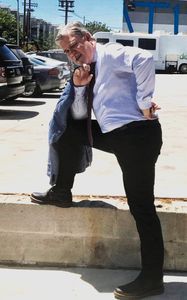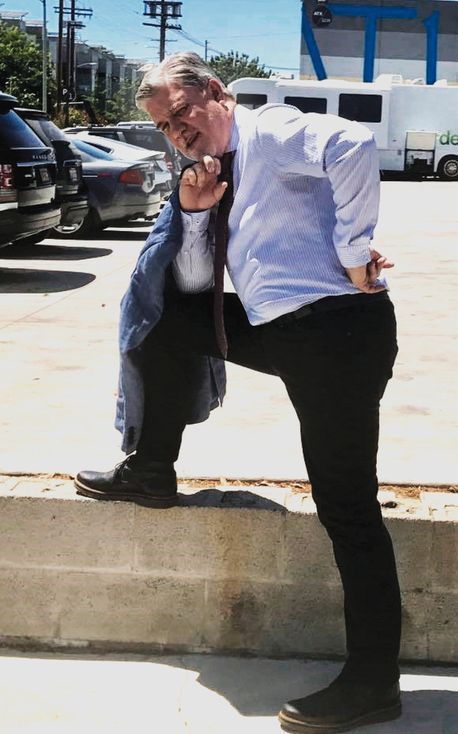 One month later, in January 2016, Rinder stated of Scientology during a podcast interview: "Today…you're pretty much free to do and say anything you want….They're [Scientologists] fair game for the media."
As of May 2016, Remini and Rinder were interviewing people—exclusively anti-Scientologists—to be featured on Remini's show, which ran from November 2016 to August 2019. Earning his pay, Rinder was appropriately full-on anti-Scientology.
It was a snaky U-turn for the former Scientologist and the self-proclaimed first minister of the "real Scientologists," who now jettisoned the pretense of his religious convictions. Just two of his changed directions:
In 2011, when Rinder was being paid to be the "voice" of the "real Scientologists," he professed that he never renounced his Scientology religion. "I never did. I never did," he told a TV host. He held this position up to 2015: "I don't consider…that I no longer subscribe to the beliefs of everything that is in Scientology."
In 2017—two years later, during his paid role with Leah Remini's anti-Scientology TV show—Rinder asserted: "I haven't been considering myself to be a Scientologist for 10 years."
In 2015, Rinder proclaimed that Scientologists are "good people…really doing something to change the world for the better."
In 2017, after a year of making his living on Remini's show, Rinder borrowed a page from Goebbels and proclaimed that Scientologists are "like cornered rats and will ultimately be wiped out entirely because they are such menacing, antagonistic and rabid vermin."
Mike Rinder has traveled a road with twists and turns, without consideration of the direction he is traveling so long as he profits.
On January 24, 2018, after two seasons as a voice of anti-Scientology, Rinder bought his first house, in Palm Harbor, Florida. The sale price was $385,000—above-average cost of homes there at that time.
The road signs on Rinder's journey always did flash green.